School Uniform Policy - Oxley High School
All students in NSW government schools are expected to maintain a neat appearance including adhering to the requirements of the school's uniform or dress code policy.
Core rules for students in NSW government schools
Our school community has determined that a school uniform is to be worn by students. This is strongly supported by P&C which has stated: "Consistently wearing the school uniform engenders a strong sense of identity in Oxley High School students".
Wearing a uniform reduces long-term costs, reduces peer pressure and distractions, contributes to school spirit, assists in student identification and promotes a safer school environment.
Students need to wear the correct uniform to school on a daily basis and to school events unless otherwise specified. Parents and carers are asked to support the school in this matter.
If there is a genuine reason for a child to be out of uniform on any particular day, a signed note must be presented to the PC teacher during PC, stating the student's name, the date and reason for not wearing correct uniform. A Uniform Pass will be issued for that day.
Please note if you are experiencing difficulty in providing the correct school uniform for your child, assistance may be available. Please contact the school office for more information.
Students who are continually out of uniform and do not have a note will be directed to the uniform coordinator or Deputy Principal and appropriate follow up will occur, including the imposition of consequences such as detentions or extra duties or exclusion from excursions and extracurricular activities.
Students who attend school in unsafe or inappropriate clothing will be required to stay in the office. They will be excluded from the playground and classes until arrangements can be made to change into appropriate clothing. Parents may be contacted to ensure the provision of appropriate clothing.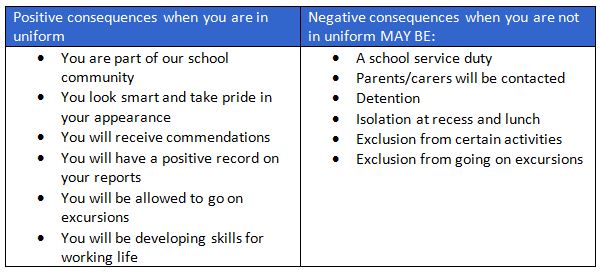 Footwear
The wearing of enclosed, sturdy shoes on the school site regardless of lessons being studied is an Workplace Health and Safety requirement as set by the NSW Department of Education and Training. Thongs, sandals, cotton slip-on (without a back), clog-style and scuff-style footwear do not meet safety requirements and are not acceptable on school grounds. See attached guidelines.
Sun Safe
We encourage students to be sun safe by wearing hats and sunscreen when in the playground and exposed to the sun.
What's not acceptable dress at school?
Immodest or inappropriate clothing – singlet and midriff tops
Underwear showing above your shorts
Unsafe shoes
Non-uniform colours or items of clothing
Jumpers and tops with large logos or slogans that may cause offence to others
Hoodies
Attached are our guidelines for theOxley High School uniform requirements. These guidelines make clear our expectations of how students should dress on their way to, in and from school. The uniform shop is operated by the school with all profits returning to the school. You must contact the staff in the administration Block regarding hours of operation. Generally it is open on Thursday afternoons from 12.30-1.30pm.